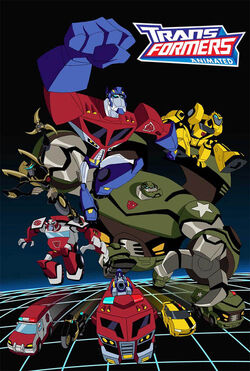 Transformers Animated is the next television-supported Transformers franchise, due to start in the January of 2008 with a 3-episode mini-movie and continue on to a full 13 episode season.
The cartoon is produced by Cartoon Network, scripted in the United States, with character and background designs by the crews behind shows like Teen Titans and Ben10, while animation is being provided by Japanese studios Mook, The Answer Studio (the Japanese studio who animated Super Robot Monkey Team Hyper Force Go), and Studio 4C.
Animated is notable for the fact it sees several G1 voice actors reprise their old roles (Susan Blu, Corey Burton, John Moschitta, etc.) and for the fact this is the first show featuring David Kaye where he won't be voicing Megatron (They made it up to him by having him voice almost everyone else).
Series details
The series will eschew the ever-continuing space opera storylines of the past few anime to return to the episodic approach of Beast Wars; each episode will be a stand alone story but with an overall story arc that stretches through the whole season. The focus is being put firmly on characterization, dynamic action, and humor.
The episodes will center not only on the war between the Autobots and the Decepticons, but also on the Autobots' interactions with many of Detroit's human supervillain denizens, including a maladjusted marksman, a guy who can spit acid, and a guy who looks good in a pimp suit. The idea is to present the Decepticons as credible threats rather than have them all be defeated in every episode. The human villains will give the Autobots "everyday" threats--and no doubt their schemes will turn out to be the result of Decepticon treachery. Note that human adversaries are not new in Transformers continuity.
Season 2 is already in the works and seasons 3 and 4 are quite possible.
Cast
Autobots
Decepticons
Humans
Toyline
First previewed July 1, 2007, in Hasbro's Future Products panel at Botcon.
The Transformers: Animated toy line merges the more fluid, expressive design style of the cartoon with extremely poseable robot forms (to a degree even Hasbro seemed pleasantly surprised by). Unlike the franchises immediately before it, there is no overarcing, line-wide gimmick such as Mini-Cons or Cyber Planet Keys; rather, transforming IS the gimmick, and toys will have other special features that are unique and appropriate to the character they depict. While the designs originated with Hasbro and the Cartoon Network team, TakaraTomy is once again stepping up to the plate to engineer the toys.
The toy line is currently scheduled to debut in March 2008 with a special "battle pack" featuring multiple figures. The full line will presumably bow sometime a few months later.
External links

You left a piece out!
---
This article is a stub and is missing information. You can help Teletraan I: The Transformers Wiki by expanding it.