The name or term Jazz refers to more than one character or idea. For a list of other meanings, see Jazz (disambiguation).
Jazz is an Autobot in the Generation 1 continuity family. He is also known as Meister.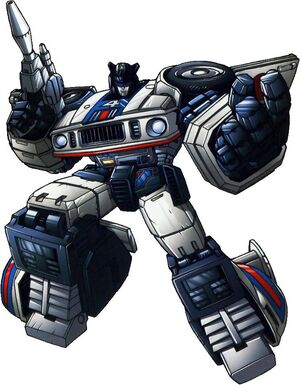 Jazz is Optimus Prime's right-hand man. Unlike Prowl, Prime's military strategist, Jazz responds well to change and improvisation. Whatever surprises the Decepticons spring, Jazz can deal with it. His position as Special Operations Agent calls for all the skills he possesses, yet he still has time to add some style into everything he does.
An admirer of Earth music of every kind, Jazz loves culture. More than most other Autobots, he has his finger on the pulse of Earth trends and lingo. Chances are, Jazz could tell you the status of almost any reality television show and each week's Top 40 list.
Jazz's personality makes him well-liked among the others of the Ark, especially Bumblebee. In fact, there is not one Autobot who doesn't like or admire Jazz.
Preliminary name: Jazz

Japanese name: Meister

French-Canadian name: Saxo

Italian name: Tigre

RTM1 dub name: Marshall
Fiction
Marvel Comics continuity
Generation 1
(Events from UK-only stories are in italics.)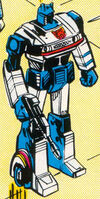 Jazz was one of the Autobots who crashed on Earth four million years ago, waking up in 1984. Jazz showed an affinity with human pop culture almost immediately, responding to Prowl's non sequitor assertion that his "logic center dictates the most advantageous course of action in any situation" with "Well, that is neat-o, Prowl."
Jazz's first foray into action came when the Decepticons attacked him and his fellow Autobots at Witwicky Auto Repairs, resulting in the kidnapping of Sparkplug Witwicky. Later, when Sparkplug was rescued and it was learned that the auto repairman had devised a way for the Decepticons to convert Earth fuel into a usable resource, the Autobots were enraged. Jazz shot a stream of fire to prevent Sparkplug's escape, causing the human to suffer a heart attack.
It was discovered that after the Autobots crash landed on Earth, a rescue ship was sent after them which was buried somewhere in England. The Man of Iron, one of its crew, had awakened a number of times in England's history, and had become a local legend. Jazz, along with Trailbreaker, Mirage, and Bluestreak, were dispatched to England under Optimus Prime's supervision. Jazz befriended (and kidnapped) a young boy, Tommy Harker, whose dad worked at the castle where the Autobot rescue ship had been partially unearthed. After questioning the boy, it became apparent that the rescue ship must be destroyed. At the climax of a battle with the Decepticons over the buried ship, Jazz fired his weaponry down into it, and it was pulverized.
Jazz spent three weeks in a shipping container in order to get to Skagway, Alaska unnoticed by the Constructicons. Hoist then became stuck while scouting the base, and Jazz suffered brain damage while coming to his aid. Hoist was forced to drag the uncooperative, bewildered Jazz to through hostile territory to safety. The damage was repairable. The Mission
Generation 2
Animated continuity
Voice Actor: Scatman Crothers, Wally Burr (US), Kōki Kataoka (Japan)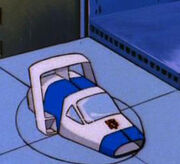 Blacker than the inside of a drive shaft -- that's how Jazz described the north side of Cybertron. The slang-talking operations specialist was on a recon mission to ascertain Cybertron's bleak energy reserves, and his reports are what prompted the Autobot mission to search for new sources of energy outside of their home world. Jazz served as pilot for the Ark until severe asteroid turbulence knocked him from his seat. The Decepticons took advantage of the confusion and attacked, and both vessels and parties crash-landed on Earth.
Four million years later, in 1984, the Autobots and Decepticons awoke reformatted to fit in on the planet. Jazz traded in his sleek Cybertronian form for an even sleeker Porsche 935 Turbo. As a lieutenant to Optimus Prime Jazz was charged with assembling task forces and special mission teams to counter the Decepticon threat. Jazz accompanied the first mission to an off-shore oil rig, where his wrist-mounted grappling hook and winch came in handy saving Optimus Prime. He used the same line to stop Prime from riding the rapids at Sherman Dam, and to pull Bluestreak and Ironhide from an unscheduled lake swim.
Throughout season one, Jazz is seen giving orders and accompanying Optimus Prime on almost any mission they undertake. In season two, Jazz actually uses his light and sound show attack on at least two occasions.
Jazz is one of the main characters in the series up to season three, when he started making only a few cameos with no lines. This is because Scatman Crothers, who voiced Jazz, died not long after Transformers: The Movie (which takes place betwen seasons 2 and 3) finished production. He is given speaking lines and more on-screen time, however, in the Japanese-exclusive The Headmasters.
Dreamwave comic continuity
8.2 million years ago, Jazz and Prowl met Grimlock in the remains of Praxus' Helix Gardens to discuss the worthiness of Optronix to lead the Autobots. Jazz later attended the Matrix-transfer ceremony at the Chamber of the Ancients; he attempted to save Optronix - now Optimus Prime - when he was attacked by Decepticons, but was restrained by Grimlock. When Prime defeated the assassins, Jazz was convinced of his worth.
Soon afterwards, Jazz questioned Prowl's decision to allow Prime to explore the depths of the planet alone, but was prevented from pressing the issue any further when Shockwave attacked Iacon with an army of Decepticons. Jazz helped direct the battle from the Decagon, but the defenders were soon overwhelmed. Jazz was forced to begin evacuating important artifacts and hardware from the city, but was unable to finish before the Decepticons overran the Decagon. He and a handful of Autobots made a desperate last stand, but were saved from extinction when Starscream activated the planetary engines, devastating the city and forcing Shockwave's army to retreat.
7.4 million years ago, Jazz witnessed the space bridge explosion that seemingly killed Prime and Megatron. After the subsequent fragmentation of the Autobot faction, Jazz remained with the Prowl-led Autobots. He accompanied a group of Autobots to investigate a new mobile battle base at the Praetorus Wharf, only to learn that the base was fully operational. Despite the arrival of reinforcements, the titan was too much for Jazz and his cohorts; only when Shockwave recalled Trypticon to the Neutral Territories were they saved them from certain doom.
Battered, Jazz and the others limped back to Iacon, only to be forced to repel an attack on Autobase by The Fallen. Although Jazz, Mirage, and Sunstreaker fought valiantly, the mysterious entity defeated them and archived his objective: freeing Blitzwing from captivity.
Jazz was among the crew of the Ark when it crashed on Earth, and awoke in 1984 to battle the Decepticons. After years of fighting, Jazz and the other Autobots took part in Operation Liberation in 1998, a joint human/Autobot operation that defeated and captured the Earth-bound Decepticons. However, the Ark II, which was meant to convey the Autobots, the captured Decepticons, and a number of humans back to Cybertron was sabotaged by General Robert Hallo, sending Jazz and his comrades to the bottom of the Arctic Ocean.
A few years later, Optimus Prime awoke Jazz and a number of other Autobots, to combat the sinister Lazarus. He aided in the cleanup of Lazarus' latest target, the SmitCo oil refinery, and then moved on to Lazarus' base, which had been taken over by a revived Megatron and his deadly 'metal virus'. Jazz and the others briefly battled the Decepticons, but were stopped in their tracks when Hallo dropped a nuclear bomb on them. The virus absorbed most of the blast, leaving the Transformers unharmed, but continued to expand across the countryside. Jazz remained behind with a team to combat the virus, while Optimus Prime took a contingent of warriors to combat Megatron in San Francisco. Armed with Wheeljack-designed blasters to combat the virus, Jazz and his squad fought bravely, despite the blasters draining their energy and the well-meaning interference of the Canadian Army. But soon the virus overwhelmed them, forcing Wheeljack to sacrifice himself to destroy it. Jazz mourned over Wheeljack's fallen form.
Some time later, Jazz participated in a battle in Alaska over possession of an escape pod containing Scourge, only to be forced to flee with the other Autobots when Shockwave arrived from Cybertron, proclaiming a new era of peace. While Optimus Prime and a number of other Autobots surrendered to Shockwave's lieutenant Ultra Magnus, Jazz was left behind on Earth to command a small team of Autobots. After Magnus and Prime had departed, Jazz, Brawn, and Windcharger returned to the battlefield, but found no trace of the pod or Scourge.
Devil's Due G.I. Joe vs. Transformers comics continuity
IDW comics continuity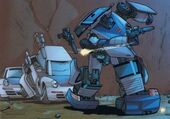 Jazz is part of a detachment of Autobots that has operated covertly on Earth for at least four years, attempting to foil a Decepticon insurgency. His role within the Autobot detachment has not been revealed as of yet.
Toys
Generation 1
Jazz (Autobot Car, 1984/1985/2002/2003)
Japanese ID number: C-06, TFC-01
Jazz was part of the original assortment of Autobots released in 1984. He transforms into a Martini Racing Porsche 935 Turbo. In robot mode, he is armed with a silver 'photon rifle' and a shoulder mounted, spring-loaded rocket launcher that can fire three silver missiles.
A slight variation of this toy, with different decals on the car doors, was available as a mail-away exclusive offer from Cookie Crisp cereal.
This mold was also used to make the pre-Transformers Diaclone Porsche 935 Turbo and Ricochet.
Jazz w/ Turbo Board (Action Master, 1990)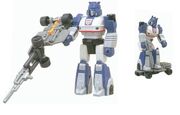 Action Master Jazz's sculpt was based upon his cartoon model. As with most Action Master figures, he cannot transform, but his Turbo Board partner can transform from a skateboard into a large blaster weapon.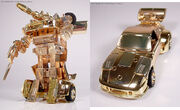 This version of reissue Jazz is almost entirely constructed of vaccum-metalized gold plastic, based on Jazz's electrum-covered appearance appearance in The Golden Lagoon.
e-Hobby exclusive, sold with Streak (anime version)
Generation 2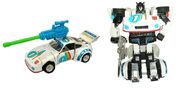 Generation 2 Jazz is a slight retool and redeco of the original toy. His face (apparently degraded from mold usage) now has a strange smirk. His roof has been retooled with a small hole to accommodate his new bright green, spring-loaded missile launcher. All of his Martini racing stickers have been replaced with various new stickers depicting his name and the number '1' laid over a rainbow-colored musical note.
This mold became the basis for future reissues of Jazz, complete with his smirk.
Unreleased
Universe
Autobot Jazz (Spy Changer, 2004)
Smallest Transforming Transformers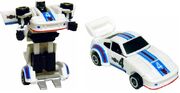 World's Smallest Transformers Jazz is a tiny replica of the original toy. His wheels do not roll and he has a simplified transformation scheme.
Alternators
Meister Mazda RX-8 (Alternator, 2004/2006)
Alternator ID number: 7
Japanese ID number: BT-08
"Do it with style or don't do it at all"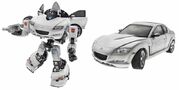 Alternators Meister transforms into a highly accurate 1:24 scale Mazda RX-8. He features a opening hood with engine, opening 'suicide' doors and trunk with a realistic interior. In robot mode he is sculpted to resemble both the original G1 Jazz toy and the G1 cartoon model. He is armed with a rifle that transformed from his muffler.
This mold was also used to make Zoom-Zoom, and was retooled into a Mazdaspeed RX-8 as Shockblast.
Titanium
Autobot Jazz (Robot Masters, 2006)

Titanium Jazz is a small, 3" non-transformable die-cast metal figurine based upon his Alternators design. He has articulation in his waist, shoulders and head.
Attacktix
Merchandise
Autobot Jazz (Heroes of Cybertron, 2003)
This PVC figure was based on the cartoon rendition of Jazz.
Trivia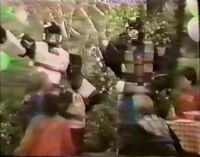 A commercial for Transformers reflective iron-on patches advertised the "Prizes in Disguise" competition. When the iron-on patch was used, it was possible to instead find an instant win ticket for a Transformers voice changer (of the Enemy variety) - or to have a party with "life size" Transformers! Among the "life size" Transformers shown were Jazz and Skywarp. If you actually did party with Jazz and Skywarp, please let us know. So far, only a certain "Starscreamer89" has reported going partying with them.
Scatman Crothers (as Jazz) is often credited as having coined the term "ginormous" (a combination of "gigantic" and "enormous") when using it to describe Unicron in The Transformers: The Movie, a term which was officially added by the Merriam-Webster Online dictionary in 2007[1]; however, the term has actually been around for much longer, being listed in the Oxford English Dictionary as a " British informal" word that has existed since at least the mid-20th century. [2]
In recent years, toys sporting the name "Jazz" require an additional "Autobot" prefix for trademark reasons, hence making the official name "Autobot Jazz".
The first toy planned for the Alternators line was Jazz as a Porsche 986. A prototype was made, but Porsche refused to grant Hasbro and Takara the license, stating that "Transformers are not worthy carrying the Porsche trademark. They are war machines and the toyline in no way represents the lifestyle and ideas which Porsche represents."[3] As a consequence, the toy ultimately never went into production. Photos of the prototype were depicted in the Japanese book "The Transformers: Binaltech & TF Collection Complete Guide", and Hasbro later also displayed the prototype during the BotCon 2007 Hasbro Tour.
The Alternators Mazda RX-8 (which ultimately ended up as Meister) was originally intended to be named "Camshaft", according to various early store listings and a premature reply from Hasbro's customer service. This would also fit with the early idea of making the Alternators toys "direct updates" of their characters' G1 predecessors. A prototype was leaked to the public in early 2004 sporting the same basic colors as the later Alternators "Autobot Camshaft" toy (the Acura RSX), although it's uncertain whether the prototype colors for the RX-8 were supposed to be indicative of the proposed colors for Camshaft (since the Acura redeco was originally intended as a G1 Bluestreak homage before being renamed into "Autobot Camshaft"). The reason why the RX-8 Alternator was ultimately not named "Camshaft" was apparently because the real-life Mazda RX-8 car doesn't have a camshaft. Furthermore, there have been at least two different reasons stated why Hasbro toy was named "Meister" rather than "Autobot Jazz": For once, Hasbro were still hoping that Porsche would have a change of mind and grant them the license after all, like Chevrolet had done; also, Aaron Archer has been quoted stating that he thought a third toy named "Autobot someone" following "Autobot Hound" and "Autobot Tracks" would have been somewhat "redundant".
Footnotes
↑ [http://www.abc.net.au/newsradio/txt/s1434397.htm ABC News Radio expanding on the origins of the word "ginormous"
External links

You left a piece out!
---
This article is a stub and is missing information. You can help Teletraan I: The Transformers Wiki by expanding it.