Sam Witwicky is a human in the Movie continuity family. He is also known as ladiesman217.
Samuel James "Sam" Witwicky (1990-) is 17 and he needs a car. Quick, call Bernie Mac!
When he bought a car, it turned out to be an alien robot. Who knew? Also, his pheromone levels suggest that he wants to mate with Mikaela Banes.
"Sam Witwicky, you hold the key to Earth's survival. Will you help us?"

―Optimus Prime, putting on the pressure
Fiction
Official Movie Prequel comics
At age twelve, Sam's father presents him with the heirlooms of his ancestor Archibald Amundsen Witwicky. Sam is not impressed and makes googly eyes with the arctic explorer's glasses.
Years later, Sam discovers the concept of riding around in cars to cruise for chicks. He looks to his box of priceless historical artifacts, and his thoughts turn to eBay...
Transformers (2007 film)
Actor: Shia LaBeouf Fuminori Komatsu (Japan)
After getting an undeserved A- for his genealogy report, Sam and his father went to buy a car. Though they passed a Porsche car lot, Ron was actually playing a cruel joke on his son (real smart, considering that he'll eventually get power of attorney someday). Going to Bobby Bolivia's car lot, they went shopping for a used car. Sam spotted a Camaro that he liked, but Ron, ever the cheap man, refused to go over four thousand dollars. However, when all the windows in the car lot suddenly exploded, Bolivia agreed to four thousand.
Taking his friend Miles to the lake, they encountered Mikaela and her boyfriend Trent. Trent pretty much told them to get lost, but Mikaela then dumped Trent. Realizing he had his one shot, Sam abandoned Miles and offered to give Mikaela a ride home. When his car had some engine trouble, Mikaela looked under the hood and was quite impressed with the layout of the Camaro's engine, though Sam was more impressed with the layout of Mikaela.
Later that night, his car suddenly left. Believing it was being stolen, Sam followed it to an abandoned junkyard. To his shock and horror, the car was alive. Sam left his last words to his parents and Mojo, then investigated. Some police came and arrested him, and an overzealous cop, believing him to be a junkie, ripped him a new one. Returning home, Satan's Camaro arrived, and Sam fled ignominiously on his mother's pink bike. He hit the cement hard in front of Mikaela, and soon found a police car. He demanded the officer's help... at which point said police car turned into an even scarier car. The cop car demanded the location of Sam's eBay items, but Sam fled and ran into Mikaela. The Camaro arrived and took them to a power plant, where the two cars fought it out, while Sam was chased by a spastic abomination who pantsed him. Mikaela was able to cut it's head off, which Sam punted. Sam and Mikaela approached the Camaro, who could only speak through his radio, and were escorted to an abandoned alley, where they met the biggest surprises of them all. Four other cars transformed into robots. The lead robot, after inquiring about Sam's identity, introduced himself as Optimus Prime and his companions as the Autobots, autonomous robotic lifeforms from the planet Cybertron. Prime introduced Jazz, his first lieutenant, Ironhide, the weapons expert, Ratchet, the medical officer, and identified the Camaro as Bumblebee, Sam's appointed guardian. Optimus explained their mission to locate the All Spark, Megatron and the Decepticons, and how Archibald Witwicky's glasses played a vital role in finding the All Spark.
Going to his house, Sam frantically searched for the glasses, but the Autobots were somewhat impatient and totally wrecked his dad's backyard. After finding the glasses, government agents arrived. Their leader, Agent Simmons, took Sam and Mikaela into custody, separating Sam from his parents. Simmons went bad cop on Sam, threatening him with life imprisonment and revealing Mikaela's criminal record. Just as Simmons demanded answers about aliens, Prime intercepted the convoy, and the Autobots totally outclassed the agents. Sam demanded to know what Sector Seven was, but a backup team arrived. Prime took Sam and Mikaela to hide under a bridge, but they nearly fell to their deaths. Bumblebee saved them, but was captured, and Sam and Mikaela recaptured.
Taken to Hoover Dam, Simmons tried the awkward role of good cop, but Sam was uninterested in talking. Tom Banachek tried to bribe him, and Sam demanded the freeing of Bumblebee, his parents, and the expunging of Mikaela's criminal record. Taking them into the Dam, Sector Seven showed them N.B.E.-1, who Sam recognized as Megatron. he explained Megatron's goals, and the purpose of the All Spark. However, the spastic abomination that pantsed him sent a message to the Decepticons, who attacked. Sam implored Sector Seven to release Bumblebee, saying he could help, which Captain Lennox assisted by putting a gun to Simmon's chest. Bumblebee converted the All Spark to a smaller form, and the soldiers escorted the two teens and Bumblebee to Mission City, soon augmented by the Autobots.
Upon reaching Mission City, an F-22 Raptor was spotted, which Ironhide recognized as Starscream. Starscream attacked, damaging Bumblebee's legs, and a tank attacked the soldiers. Megatron soon arrived and killed Jazz, and Lennox ordered Sam to take the All Spark to a building to be escorted out of the city. Sam was pursued by Megatron, Starscream, and a helicopter. Reaching the building, Sam ignited a flare, but his ride was destroyed by Starscream. Megatron demanded the All Spark, in exchange for living to be his pet (causing other pets to weep uncontrollably), but Sam refused. Megatron used his flail to knock Sam off the roof, but Sam was saved by Optimus Prime. Prime thanked Sam for his efforts, and told him that if he couldn't defeat Megatron, Sam was to merge the Cube with his spark, destroying both Prime and the All Spark. However, Megatron was too powerful for Optimus to defeat alone, and Prime told Sam to give him the All Spark. Instead, Sam merged the All Spark with Megatron, killing him. Optimus extended his thanks, telling him he owed Sam a debt of gratitude. Bumblebee, who could now speak, requested permission to stay with Sam, to which Sam eagerly agreed. Sam and Mikaela entered into a relationship, and made out on Bumblebee's hood while Ironhide and Ratchet observed.
Sam really loves having a car.
Toys
Transformers (2007)
First Encounter (Screen Battles, 2007)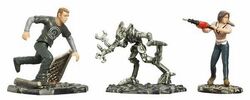 This Screen Battles pack features a largely unchanged Deluxe class Barricade figure but the Frenzy accessory has been cast in black plastic to better blend in with Barricade's chest. The pack also comes with unposable figurines of Sam Witwicky in a running pose, Frenzy menacing Sam and Mikaela Banes holding the power saw she uses to attack Frenzy. The set is packaged in a special window box with a diorama depicting the battle between Barricade and Bumblebee.
Trivia
Sam was not given the nickname "Spike", nor his father the nickname "Sparkplug" (though his wife does refer to him as "Spark"), because unlike their G1 counterparts the movie characters are not oil rig workers or mechanics. Earlier drafts of the script did have Sam earning the nickname "Spike" another way, but this was dropped before the script was finalized. [1]
He's not getting a Porsche. Srsly.
Sam's eBay username 'ladiesman217' is a reference to movie director Michael Bay's birthday, February 17th. If 217 had the same meaning for Sam, that would make his date of birth February 17th, 1990.[1]
In the Japanese dub of the film, Sam's eBay username is changed from "ladiesman217" to "playboy217", since "ladies' man" isn't a term the Japanese are familiar with.

You left a piece out!
---
This article is a stub and is missing information. You can help Teletraan I: The Transformers Wiki by expanding it.
Footnotes
↑ The genealogy chart in the 2007 movie indicates Sam was born in 1990.
External links