This is a disambiguation page: a list of articles associated with the same title. If an internal link referred you to this page, you may wish to change the link to point directly to the intended article.
Bludgeon is a Decepticon from the Revenge of the Fallen portion of the live-action film series continuity family.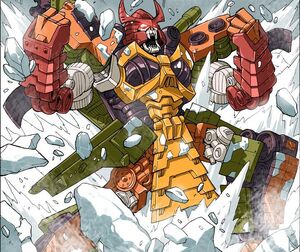 Bludgeon was nearly destroyed in a fight with the metallikato master Whirl. Forced to retreat and hide, he scanned a new vehicle mode and disappeared into the southeast Asian jungle. He is desperate to get his revenge on the Autobot.
Like Whirl, Bludgeon is also a master of Metallikato. His favourite weapon is his Cybertainium forged Katana. On Cybertron he used to train with his only friend, Banzaitron. He is a feared opponent among the Autobot ranks.
Fiction
Titan Magazines
Located in Bloemfontein, South Africa, is the NEST maximum-security containment facility and Bludgeon is about to escape. Breakdown looks on as he reveals a Scalpel from his arm, who cuts through Bludgeon's chains. He pulls out his Katana and cuts through the cage.
NEST detect the breach and send Smokescreen, Brawn and Wideload to counter. Bludgeon frees Breakdown. After Breakdown insults Bludgeon, he disciplines him by stabbing Breakdown through the Spark chamber, killing him.
He later frees the other Decepticons, including Lockdown and Reverb, who were being held in the facility. Inside Out!
Unite for the Universe
IDW movie comics
Toys
Revenge of the Fallen
Master of Metallikato (Deluxe, Toys R Us exclusive multi-pack, 2009)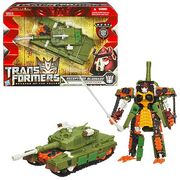 Bludgeon is now a green Japanese tank. His humanoid mode resembles a samurai with two Japanese swords and a skull mask. This is actually directly related to his deluxe-class component, saying that he was badly damaged by Whirl and fled to South-East Asian Jungles to make repairs. His humanoid mode resemble his Generation 1 counterpart's outer shell.
This mould was repainted into Transformers Banzaitron.
I cannot remain in this unacceptable operational status!
---
This character article is a stub and is missing information. You can help Teletraan I: The Transformers Wiki by expanding it.
Community content is available under
CC-BY-SA
unless otherwise noted.