This article is about a character or characters with no official name or descriptor.
For more information see Help:Nameless characters.
Black BB is an evil clone from the Beast Wars II portion of the Generation One continuity family.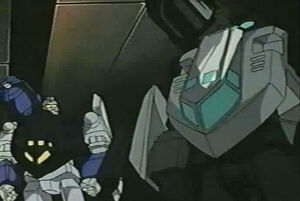 "Black BB" is a black and evil clone of BB. Who is already evil.
Fiction
Beast Wars II cartoon
Voice actor: ? (Japanese)
After a mysterious device was uncovered by the Autorollers and brought to the Predacon base, BB investigated the machine's properties, accidentally activating it to scan himself and create a black and gray duplicate of him. The two BBs got into a scuffle, which prompted Galvatron to end the distraction by ordering the Predacons to shoot the clone. Black BB's Death was signaled by his outline being filled with a rainbow effect and then him disappearing. The Black Lio Convoy
Note: The above summary was written by someone who does not speak Japanese, and some fine points may have been lost in translation. (Fair warning.)
Community content is available under
CC-BY-SA
unless otherwise noted.