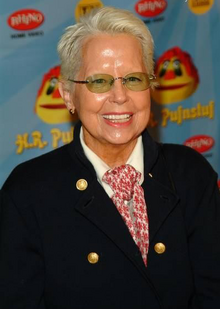 Billie Hayes (born 1932 in Duquoin, Illinois) is an American actress. She is best known as Witchie-poo on Sid and Marty Crofft's H.R. Pufnstuf, a role she has occasionally reprised over the years. She got her start in acting on Broadway, most famously as Mammy Yokum in Li'l Abner, and she played the same role in the 1959 movie based on same. More recently she has scored voice roles on shows including Teen Titans, W.I.T.C.H. and The Batman, as well as movies such as Shrek Forever After.
Voice roles
Community content is available under
CC-BY-SA
unless otherwise noted.