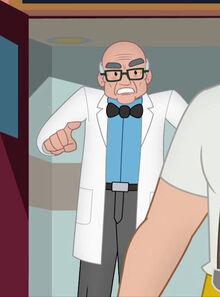 Doctor Bieber is Kade Burns' dentist.
History
Suffering from a toothache, Kade was unable to book a visit to Dr. Bieber until the next day. As luck would have it, he swapped minds with Heatwave in the meantime, and it was Heatwave who had to visit the dentist. Heatwave apparently objected in some manner to Dr. Bieber poking around in his mouth and though Bieber completed the procedure, he told "Kade" to find a new dentist. The real Kade was unhappy.
Dr. Bieber attended the ill-fated Brash Ball game which ended when the Insta-adium deflated.
Community content is available under
CC-BY-SA
unless otherwise noted.