Berserker is a character introduced in the Transformers: The Last Knight movie. Berseker was a member of the Decepticons. His chest has been painted on with a red "X" shape.
Personality & Character
Berserker is a seething ball of destructive energy, his lust for violence constant and irrepressible. Anyone and anything that gets in his way is torn to shreds, leading his allies and enemies alike to give him as wide a berth as possible.
By some miracle, the humans captured him and he's been constantly struggling against his restraints, spitting out the most graphic threats imaginable, which have led to stronger restraints, which make Berserker even more angry...and the cycle continues. Naturally, Megatron wants this maniac back in his ranks, but he knows it's a tall order.
History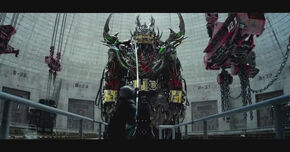 According to TRF files, Berserker is one of the most dangerous decepticons to ever walk the earth. This decepticon was responsible for the disappearance and murder of several people in a small Michigan town, this decepticon was reported by a family of farmers who spotted a metal creature near the farm fields, and knowing what happened in Chicago these They were alarmed so they decided to speak to the TRF to investigate, Lenox and his team went after Bersker's tracks which led them to a cave where the decepticon took refuge, when entering the cave they found that a lot of corpses of both humans and autobots, both of which were sucked out of their bodily fluids. When Lennox and his team were attacked by the Decepticon Berseker, they noticed that his nature was wild and that around his body he had marks which were from the blood of his victims.When Berserker was captured, he was transferred to a maximum security prison where he was in the custody of the TRF. Berserker was among the Decepticons in T.R.F.'s custody. When T.R.F. was negotiating with Megatron, Megatron requested Berserker be one of the Decepticons released from custody to be part of his "crew". T.R.F. declined, claiming Berserker was far too dangerous to be released, so Megatron settled on Onslaught instead. The Last Knight
Toys
Deluxe Class
Released in 2017, he comes with two clubs which are identical to Crankcase's weapons. His alt mode is a Chevrolet Suburban. His shoulder blades are on ball joints, while his feet can snap into position, giving him a crouched stance while his hip can fold up woth his legs, all in all to help with his transformation scheme. This toy is also what some people may call a shellformer.
Gallery
See Also
Notes & Trivia
The Berserker shares a surprisingly identical appearance with Crankcase, but his toy a completely new mold, which may mean that he has a role in the movie and not just a redeco of Crankcase's toy.
But this is unconfirmed, although, at 1:36 of the 5th movie's trailer, two transformers are caught in an explosion, both which share black as their primary colour, one of them might possibly be the Berserker.

According to Seibertron, the berserker is modeled after the Decepticon enforcer in the Dark of the Moon Videogame who also looks a lot like Crankcase.
References
External Links