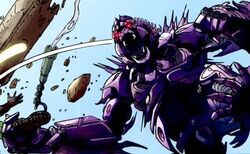 Clearly the most animal-istic of Soundwave's forces, all Beastbox seems to know is primal fury. His answer to everything is "smash through it!", unless its an order from Soundwave. Simply put, Beastbox is well-equipped to give his answer. He can smash through inorganics and can knock a human senseless (if not break a few bones).
Nefarious
While Soundwave investigated the strange return of Ravage, Buzzsaw discovered a group of humans around the area that Ravage was located. In response, Soundwave unleashed Beastbox, Rumble, and Ratbat to attack the humans. Although Beastbox had less scenes than the rest of Soundwave's forces, he certainly proved his worth by smashing through a pile of trash and knocking aside one of the human forces. When Soundwave retreated, Beastbox must have followed him.
Community content is available under
CC-BY-SA
unless otherwise noted.