With sales of the Generation 2 toyline proving unremarkable by 1995, Hasbro faced a choice: end the Transformers brand for a second time, or completely revamp the concept. They chose the second option, and Beast Wars was the result.
The new franchise consisted entirely of robots who transformed into beasts: insects, mammals, and more. The traditional factions of Autobot and Decepticon were replaced with heroic Maximals and evil Predacons. Most radically, the beast modes were intended to represent fully natural and organic animals, as opposed to the "mechanical beasts" represented by the likes of G1's Dinobots and Terrorcons.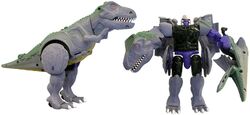 The Beast Wars toyline brought poseability to full fruition. Whereas G2 marketed a handful of toys as "super poseable", Beast Wars made it standard for virtually every toy. Heavy use of ball joints gave the figures unprecedented degrees of freedom -- often greater than that of a normal, non-transforming action figure. Poseability -- a rarity in the days of G1 -- became commonplace and expected after Beast Wars.
Concealed parts and weapons also became standard during Beast Wars. Again, G2 had introduced a number of toys whose kibble had a place to store when not in use, but it was Beast Wars that made it a universal feature.
Beast Wars also introduced a standardized system of price points to Transformers: $5 Basics, $10 Deluxes, $15 Megas, and $20 Ultras. The price for Basics eventually rose to $7, but the system remained largely unaltered through the end of Beast Machines. Portions of the system continue to be used today (the Basics were "Scouts" during the Cybertron franchise, and the Mega has been replaced with the $20, slightly-larger "Voyager".) A rarely-seen, extra-large Super class was introduced with the Optimal Optimus toy in 1998, which was also the first Transformer toy to feature a true vehicle mode since the end of G2.
The toyline evolved over its three and a half year run. 1996–97 featured purely-organic beasts exclusively. 1998 was dominated by two sublines: Fuzors, whose beast modes combined aspects of two different animals, and Transmetals, which featured metallic-finished chrome and sleekly mechanical beast modes. In 1999, the Transmetal 2s were the primary offering, featuring asymetrical and often bizarrely patchwork fusions of mechanical and organic in both modes.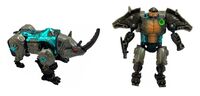 Beast Wars largely ended as a toyline when Hasbro elected to revamp the franchise and re-introduce vehicular Transformers, leading to the Beast Machines toyline. Though a new franchise, Beast Machines continued many aspects of the Beast Wars toyline including a number of major characters, the Maximal faction, and beast forms that combined mechanical and organic aspects. Furthermore, the Beast Wars title would continue to grace sporadic toys such as store exclusives, convention exclusives, and a 10th anniversary line in 2006. And another 10th anniversary line for Japan in 2007.
1996
Maximal
Basic

Deluxe
Mega
Ultra
McDonald's Happy Meal Toys
Predacon
Basic
Deluxe
Mega
Ultra
McDonald's Happy Meal Toys
1997
Maximal
Basic
Deluxe
Mega
Ultra Combiner Magnaboss
Microverse
Egg Beasts
Predacon
Basic
Deluxe
Mega
Ultra Combiner Tripredacus
Microverse
Egg Beasts
1998
Maximal
Basic
Deluxe
Mega
Ultra
Super
McDonald's Happy Meal Toy
Predacon
Basic
Deluxe
Mega
Ultra
McDonald's Happy Meal Toys
1999
Maximal
Basic
Deluxe
Mega
Ultra
Predacon
Basic
Deluxe
Mega
Ultra
2000
Maximals
Deluxe
Predacon
Deluxe
Ultra
Mutants
Deluxe
2001
Predacon
Deluxe
Community content is available under
CC-BY-SA
unless otherwise noted.