Beast Wars: Transformers is a third-person shooting game released for the PC platform in 1996. It was later ported to the Sony PlayStation platform.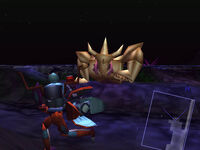 Players picked their side and sent their Transformers on missions against both the opposing side and the Skriix aliens.
Gameplay
The basic object of the game is to run around blindly and shoot everything in sight. You have two meters: your life meter and an energon meter that drains while you're in robot mode (switching to beast mode stops the process and allows it to slowly refill, but you can't attack in this mode regardless of what dangerous beast you are). Both sides have four characters you can play as, and if you lose one, they're lost for good unless you can find a "rescue" icon in the level and complete the resultant rescue mission. It is generally a few shades this side of sadomasochistic.
Playable characters
Maximals
Predacons
Notes
A game model was made for Waspinator with plans to have him in the game, but those ultimately fell through. (Wonder why? Maybe 'cause he just has the worst luck in the world.)
The Beast Wars cast did not reprise their characters' voices for the game, and while their presence would have made the game WAAAAAAY better, it's probably best that they managed to avoid marching in this crap parade.
While the PlayStation version of the game was limited to a single-player affair, the PC version surprisingly had an option to play with up to 8 people over LAN or online; in fact, for a while during the game's release, the MSN Gaming Zone reserved several rooms for multiplayer Beast Wars games. "Fans" of the game claim this is enough to dredge the game out from being horrible to barely mediocre.
The game was seen played in the TV Show Animorphs.
External links

You left a piece out!
---
This article is a stub and is missing information. You can help Teletraan I: The Transformers Wiki by expanding it.
Community content is available under
CC-BY-SA
unless otherwise noted.