Autoceptor is an Autobot from the Generation One continuity family.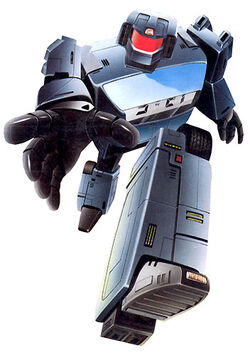 A speedy reconnaissance agent, Autoceptor is one of several Transformers who turn into wristwatches. It is unknown if he retains his small size when in his non-watch modes. He may also be able to manipulate time.
Fiction
TransTech comic
Autoceptor somehow ends up at Axiom Nexus and is "processed". Transcendent: Part 1
Toys
Generation One
Autoceptor (Kronoform, 1984)
Autoceptor is a functional "5-Function" digital wristwatch (month, day, hour, minutes, seconds... hell of a range there, huh?) from Takara's Kronoform line, revived as Transformers merchandise. He transforms from a robot to a car of undetermined model (possibly a Trans Am or Camaro), and has a third watch mode for when he was attached to the plastic watch-band. He came in at least four different colors; gray, black, dark blue and red.
In Japan, Autoceptor was available as a mail-away item, as a "Watchbot". It is unknown what range of colors he was made in for this release, though the Japanese Transformers First Series Complete guidebook shows him in green.
Notes
The packaging and instructions for the toy parse the name as both "Autoceptor" and "Auto Ceptor" in varying places. "Autoceptor" looks less idiotic.
The packaging for Autoceptor shows the entire Kronoform line for the United States in 1984. How many of these toys were actually sold in Transformers packaging is unknown, it's possible only Autoceptor and Kaltor were. (The third known Generation One Kronoform, Deceptor, is not shown, and while Scorpia is, the only confirmed Transformers release of that mold is in Generation 2).
The packaging claims that Autoceptor "Transforms to hundreds of different vehicle and robotic forms." Riiiiiight.
Community content is available under
CC-BY-SA
unless otherwise noted.