Artfire is an Autobot from the Headmasters portion of the Generation One continuity family.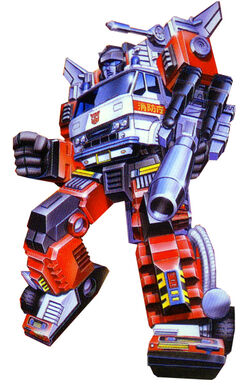 Artfire (アートファイアー, aa-to-fa-i-aa) is a Targetmaster sniper. He is patient, and thinks of his friends first, but there are times when he ignores orders because of that. His body can withstand temperatures of up to 8,000 degrees Celsius.
His Targetmaster companion is Nightstick, who transforms into a "space beam gun".
That's, uh, pretty much all there is to him.
Fiction
The Headmasters manga
Along with fellow Targetmaster Ricochet, Artfire joined Chromedome and Daniel in attending to a fire in a large metropolitan area. Artfire and Nightstick aided those trapped in buildings while Ricochet and Nightstick used his fire hose to quench the flames.
Slugslinger, Misfire and Triggerhappy, the culprits of the blaze, arrived and made more trouble. The Autobots defeated the Decepticons quickly, and all was well.
Toys
The Headmasters
Artfire (Targetmaster, 1987)
Japanese ID number: C-108
Artfire is a retool of Inferno, transforming into a Mitsubishi Fuso fire engine. His ladder and robot-mode fists were given new tooling to allow him to use any Targetmaster gun. He came with his Targetmaster partner Nightstick, and did not come with any of Inferno's other weapons (the rifle or missiles), just the removable fists and head-"wings".
Notes
No explanation is given as to how Artfire became bonded with his Targetmaster buddy, as he certainly wasn't present when the Targetmaster process happened in the animated series.
According to Aaron Archer, Artfire is on the "short list" of potential reissue candidates should the Commemorative Series return. If he does, it's possible that the reissue will come with a complete set of weapons like Ricochet did.
Being one of the last figures from The Headmasters toy run and one of the few "originals" to the Japanese toyline at the time, Artfire commands ridiculous amounts of money on the secondary market (hence the clamor for a reissue).
External links
Community content is available under
CC-BY-SA
unless otherwise noted.