The Armored Convoy is an Action Master vehicle in the Generation One continuity family.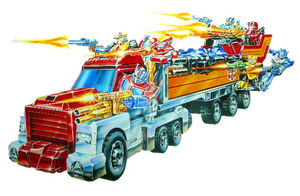 The Armored Convoy is a gigantic truck that Optimus Prime drives. The cab portion becomes an interceptor shuttle, while the trailer unfolds into into a battle station with communications and warfare capabilities.
It's armed with a photon cannon, heat-seeking "buzz bombs," a disintegration laser, and double-barreled "pom-pom" cannons. Sadly, it does not turn into a robot itself. That would be craaaazy recursive.
There are probably few Earth roads that it can fit on. Well, maybe in the city where "B.O.T." takes place.
Toys
Generation One
The largest of the Action Master toys, the Armored Convoy is a great big convoy, truckin' through the night. The cab unit can seat a single Action Master figure, and turns into a jet-craft with multiple weapon-mounting points.
The trailer unfolds into a large battle station with lots of weapon-mounting points. The rear spoiler-section of the trailer can seat two Action Master figures, while the other battlements and foot-pegs offer many places to station other figures. The central "engine" of the trailer has a pair of flip-out (non-firing) cannons.
Notes
External links
Community content is available under
CC-BY-SA
unless otherwise noted.