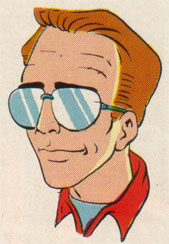 Andrew Wildman's artistic association with Transformers began when he did several covers for the Marvel UK comic. His first strip work came in issue #198, which was scripted by Ian Rimmer from a plot by Simon Furman.
After Furman took up writing for the Marvel US version of the Transformers comic, Wildman came aboard 13 issues later, simultaneously penciling the cover and interior of #69. He would pencil the book to the end of its 80-issue run, only skipping #75 (which was illustrated by Geoff Senior).
After Transformers, though the collaborations between Wildman and Furman would continue on and off over their years at Marvel, Wildman would go off on his own for lengthy stints, such as pencilling Larry Hama's G.I. Joe and Peter David's Spider-Man 2099.
Simon Furman and Andrew Wildman would be brought together again years later for BotCon 1997's convention comic, Critical Mass. Wildman was also tapped to do the box art for that year's exclusives, Fractyl and Packrat. Wildman did the package art for BotCon 1998's Antagony and Vice Grip as well, and later supplied colors for 2000's Omega Point finale.
The two Britons stayed together following their creative reunion, subsequently forming Wildfur Productions as a joint venture.
While Andrew Wildman has not been quite as active as Simon Furman in the recent Transformers comic revivals, he has still been a visible presence. On the British side of things, he provided the retail covers to all of the Titan reprints of Generation One comic material, and pencilled eight of the nine issues of Panini's short-lived Armada comic series. Over in North America, he pencilled the The War Within: The Dark Ages miniseries for Dreamwave, and has done several covers for IDW Publishing's Infiltration.
In the meantime, Wildman has founded the UK-based charity organization, Draw The World Together.
Note:
While at Marvel, Wildman worked extensively with inker Stephen Baskerville, whose talents greately complemented Wildman's own. After not working together for some time, they briefly reunited for the final issue of the Panini
Armada
comic.
Comic art
Marvel US
Covers/interiors
Generation One #69, #70, #71, #72, #73, #74, #76, #77, #78, #79, #80
Marvel UK
Covers
Generation One #183, #185, #186, #187, #193, #198, #202, #203, #205, #206, #208, #210, #211, #230, #238, #243, #245, #250, #259, #266, #286, #307, #315, #317, #323, #325, #328, #331
Interiors
Generation One #198, #199, #215, #216, #217, #218, #225. #228, #234, #240, #241, #242, #248, #255, #257, #260, #262, #265
Dreamwave
Interiors
The War Within: The Dark Ages #1, #2, #3, #4, #5, #6
Devil's Due
Covers/interiors
External links
Community content is available under
CC-BY-SA
unless otherwise noted.