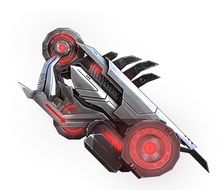 Derail's Anarchix Mine Deployer ordinarily drops explosive proximity mines, but when he powers up the Big Bang S-tech, watch out — it fires a timed mine of much larger proportions. The Big Bang mine is augmented with technology that generates gravity wells, and when those synchronize, they result in an even more massive explosion.
Notes
Range: 4/8
Shield Damage: 3/8
Spark Damage: 8/8
Tip: Use Big Bang in conjunction with Unsafe Distance to lay the mine and also immobilize enemies, so they can't escape the blast.
Community content is available under
CC-BY-SA
unless otherwise noted.