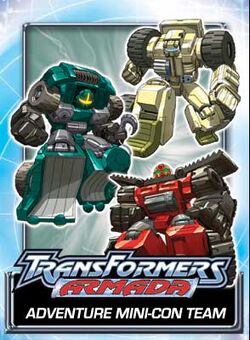 Between its three members, the Adventure Mini-Con Team can handle any terrain. They dig in deep and plow their way across frozen wilderness, parched deserts or deep swamps to get the job done!

The Adventure Mini-Con Team is composed of
Toys
Armada
Adventure Mini-Con Team (Mini-Cons, 2003)

Japanese ID number: MM-16
This mold-set was used to make the partner Mini-Cons Armorhide, Cliffjumper and Ironhide; the Micron Booster Mini-Cons Crunch, Spoil, and Torque; and the Lunar Assault Mini-Con Team.
Grap Supermode with Spark Lift and Adventure Micron

Japanese ID number: MS-07
X-Dimension Adventure Micron (Mini-Cons, 2003)

Japanese ID number: MM-21
A somewhat more limited-edition -but still regular retail- redeco of the Adventure Team was released by Takara as part of the X-Dimension series.
Energon
The Adventure Team was given a straight re-release in the Energon series in a six-pack with the Sea Mini-Con Team.
Unreleased
A partial redeco of this team had surfaced, changing only the Team's plastic colors, using the same paint masks/colors. It is unknown the exact nature of this set; it is possible that a late Armada series redeco was in the works but canned, and that this would have involved a paint scheme change.