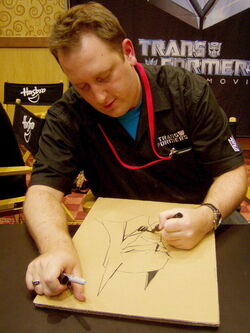 Aaron Archer (born August 26, 1972[1] -) is the Snr. Design Director for the Transformers and G.I. Joe brands at Hasbro.
He first worked on toylines such as Batman and Jurassic Park before being moved to Transformers during the Transmetal 2 phase of Beast Wars. There, he designed toys like the Transmetal 2 incarnations of Cheetor, Iguanus, Dinobot, Optimus Minor, and Megatron.
In the year 2000 Aaron was promoted to lead designer on the Transformers brand, where he played a large role in the planning of Armada, which was released in 2002. He played a similar role in the development of Energon and Cybertron, as well as Alternators. As well as designing characters and planning out the toylines, Aaron also wrote the story concepts for all three Unicron Trilogy lines that were eventually made manifest in the lines' cartoon series ignored by the Japanese production companies. In the middle of all of this, in 2004, he was further promoted to design director.
Aaron is relatively well known in the fandom, partially because he spent several months posting to the boards at TFW2005 under the name "Orson", a name by which fans sometimes still refer to him. This is in turn a reference to Orson Welles, the voice of Unicron in The Transformers: The Movie.
Toys designed by Aaron
Beast Wars
Armada
Energon
Orson's World
In early 2002, prior to the official launch of the Armada line, Aaron signed up to the boards of TFW2005 (then merged with the late Transfandom.net, later Transfandom.com) under the alias "Orson". After refuting a fan's pompous claims about the alleged properties of some of the Armada toys, the staff verified his identity as a Hasbro designer and created a special sub-forum for him, named "Orson's World". There, he would answer fan questions, but often only giving very vague hints or rejecting a carefully phrased, multi-point question with a blunt "NO." When the 2005 Boards split from Transfandom, "Orson's World" was migrated to the new TFW2005 site with Aaron's approval.
Aaron's stint as "Orson" eventually came to a sudden halt in September 2003, when he was asked by his superiors to refrain from any further posts at TFW2005 and have his "Orson" account as well as his entire posting history deleted. Aaron initially blamed Jack, the owner of TFormers.com, another fansite, for sending a "sour grape email" to his PR department.[2] Jack initially rejected any involvement and threatened legal action for defamation of name, but later endorsed the termination of "Orson's World", without directly claiming responsibility: Allegedly, Aaron, in his "Orson" persona, had been behaving "unprofessionally", had been "rude" towards fans[3] and secretly supplied TFW2005 with photos of prototypes, thereby undermining a strict ban on photos of prototypes Hasbro had been enforcing for the better part of 2003. Other suspects blamed by "inside sources" were the staff of other fansites such as Seibertron.com, The Allspark (who later went on record several times denying any involvement, even explicitly mourning the loss of "Orson's World") and the owners of the late Transfandom.net/Transfandom.com, the latter of whom had allegedly phoned Hasbro and literally insulted their PR contact.[4]
The true details of the goings-on behind the scenes that had led to the end of "Orson's World" will likely never be revealed in full. Which is probably for the better.
Notes
Footnotes
External links
Community content is available under
CC-BY-SA
unless otherwise noted.