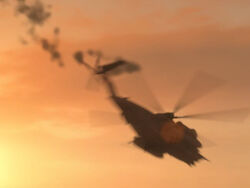 AF-4500 is the identifying serial number of the United States Air Force MH-53 Pave Low helicopter that served as the template vehicle for the Decepticon Blackout's his Earth disguise.
It's kinda a plot point, more so than the other templates.
Transformers: The Game (Console)
AF-4500's pilot was female. She issued a distress call as the helicopter crashed, but it was apparently unheard. Transformers The Game (Console)
Notes
The number AF-4500 conflicts with the number 4500X used by Blackout in the actual movie, because if Blackout had destroyed an MH-53 to assume its form, he would have the same serial number (unless he destroyed several helicopters with very similar numbers). In any case, 4500 is a fake number that wouldn't be used for a currently serving military helicopter.
4500X is also the number of director Michael Bay's personal jet.
Community content is available under
CC-BY-SA
unless otherwise noted.