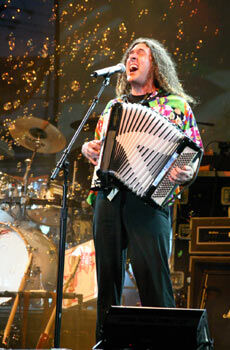 "Weird Al" Yankovic (born Alfred Matthew Yankovic on October 23, 1959) is a musician.
A multi-Grammy-winning musician for over twenty years, "Weird Al" is famous for his parodies of popular songs, as well as "style parodies" that emulate specific acts' musical styles.
Al has also directed music videos for various other musicians, including Ben Folds Five and Hanson. He has produced and starred in numerous specials on MTV and VH1, a cult-hit movie UHF, and his own one-season Saturday morning TV show. He also has a long list of cartoon voice acting cameos (particularly for Cartoon Network), appearing on such shows as Johnny Bravo, The Grim Adventures of Billy and Mandy, Robot Chicken... and Transformers Animated. He once made a song about a famous website appearing in the 2007 movie.
Generation One
Transformers Animated
External links
Community content is available under
CC-BY-SA
unless otherwise noted.