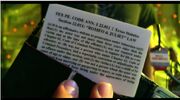 "Romeo & Juliet" Law is an element which is seen in Transformers: Age of Extinction. It describes how Shane (Jack Reynor) explained to Cade (Mark Wahlberg) about marriage law of teen.
The Law
Often, teenage couples engage in sexual conduct as part of an intimate relationship. This may occur before either participant has reached the age of consent, or after one has but the other has not. In the latter case, in most jurisdictions, the person who has reached the age of consent is guilty of statutory rape. In some jurisdictions (such as California), if two minors have sex with each other, they are both guilty of engaging in unlawful sex with the other person. The act itself is prima facie evidence of guilt when one participant is incapable of legally consenting.
Some jurisdictions have passed so-called "Romeo and Juliet laws", which serve to reduce or eliminate the penalty of the crime in cases where the couple's age difference is minor and the sexual contact would not have been rape if both partners were legally able to give consent. Such laws vary, but can include:
Rephrasing the definition of the offense itself to completely exclude situations where the difference in age is less than a specific time period.
Providing an affirmative defense to statutory rape based on the small difference in the participants' ages, or on evidence of a pre-existing sexual relationship between the accused and the perceived victim that did not constitute statutory rape.
Reducing the severity of the offense from a felony to a misdemeanor, which prevents loss of civil rights and reduces available penalties.
Reducing the penalty in such cases to a fine, probation or community service.
Eliminating the requirement that the convicted participant register as a sex offender, or reducing the duration of such registration from life to one, five or ten years.
Allowing a convicted party to petition for expungement after serving any adjudged sentence.
Such laws generally apply to a couple whose ages differ by less than a specified number of years. They are, however, generally unavailable in any case where the older participant has an authoritative position over the younger regardless of relative age, such as a teacher/student, coach/player or guardian/ward relationship, or if any physical force was used or serious physical injury resulted. This is normally accomplished by making acts involving these circumstances separate crimes to which the "Romeo and Juliet" defense does not apply.
An example is Texas Penal Code, Section 22.011(e). It provides an affirmative defense to a charge of sexual assault if all of the following apply:
The accused was not more than 3 years older than the perceived victim
The perceived victim was older than 14 years of age at the time of the offense (Age of consent in Texas is 17 years)
The accused was not at the time registered or required to register for life as a sex offender
The conduct did not constitute incest
Neither the accused nor perceived victim would commit bigamy by marrying the other (in other words, neither was married to a third person)
A similar affirmative defense exists in the Texas Penal Code for the related crime of "continuous sexual abuse of a young child or children". Any defense under either law, however, does not apply to the separate crime of "improper educator/student relationship" (sexual relations between a licensed teacher or school employee and a student of the same school), or for "aggravated sexual assault" (the forcible rape statute of Texas law).